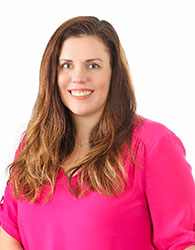 Shaunessy M. Egan, Ed. D., BCBA
Dr. Shaunessy Egan is a Program Director at CCSN. Shaunessy provides leadership to the CCSN Consultation Team and supports program development in educational programs for students with Autism Spectrum Disorder and other developmental disabilities. She also works as a Client Care Coordinator in the Feeding Clinic.
Shaunessy received her master's degree in Behavioral Education through Simmons College and received her doctorate in Educational Psychology from American International College. She is a Board Certified Behavior Analyst and Licensed Behavior Analyst in the state of Connecticut. While working towards her master's degree, Shaunessy worked as a special education teacher for preschool and elementary students with Autism Spectrum Disorders.  Prior to coming to CCSN, she utilized the principles of Applied Behavior Analysis, with an emphasis on using B.F. Skinner's behavioral classification of language, while working in a New York-based clinic serving children with Autism Spectrum Disorders. Shaunessy has experience providing direct instruction to learners with various needs, creating individualized curriculum adaptations and developing comprehensive educational plans for students with complex neurodevelopmental disorders, and consulting to school systems and families via telehealth systems.
Dr. Egan has published in the Handbook for Autism and Pervasive Developmental Disorders and the Encyclopedia of Autism Spectrum Disorders and presented workshops and symposiums internationally, nationally, regionally on topics including community-based treatment for feeding disorders, capacity building within public school settings, joint attention, and the analysis of verbal behavior. She also has served as a guest reviewer for The Journal of Autism and Developmental Disorders.