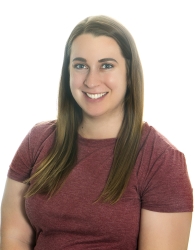 Amy Bevins, M.Ed., BCBA
Amy Bevins is a Behavior Analyst in the CCSN Behavioral Health ABA Clinic. She has over nine years of experience working with children and young adults with autism spectrum disorders and related neurodevelopmental disabilities. Amy received a bachelor's degree in Communication Disorders from the University of Connecticut and graduated from Boston University with her master's degree in Special Education, concentrating in Severe Disabilities. Amy obtained her graduate certificate in Applied Behavior Analysis from Arizona State University and completed her supervision requirements for her behavior analyst credential while working as a Lead Behavior Technician for CCSN.
Amy is also a certified special education teacher in the State of Connecticut and has taught students ages 5 through 21 years old in private and public-school settings. Amy has experience utilizing principles of Applied Behavior Analysis to increase verbal behavior, develop play and leisure skills, improve independent life skills, and teach functional academics through direct instruction and natural environment opportunities. She has a strong background in the implementation of behavior change programs to increase productivity and decrease problem behaviors in classroom, community, and home settings. Amy's professional interests include functional communication, assistive technology, social skills training, family support and advocacy, and consultation with school teams to provide meaningful outcomes for students.