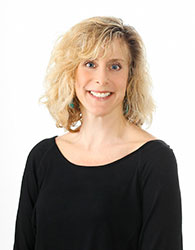 Kristen M. Powers, M.S., OTR/L
Kristen M. Powers, M.S., OTR/L, is an Occupational Therapist and Coordinator of Rehabilitative Services at CCSN. She conducts occupational therapy evaluations, co-directs the Feeding Clinic, participates in multidisciplinary assessments, provides school-based consultations and outpatient therapeutic interventions for individuals with Autism Spectrum Disorders and other complex neurodevelopmental disabilities.
Along with Dr. Mark Palmieri, Ms. Powers is the co-author of the book, Feeding Your Child with Autism, A Family Centered-Guide to Meeting the Challenges. She has lectured extensively on sensory-motor issues, feeding, and children with Autism Spectrum Disorders both nationally and internationally.
Ms. Powers received her master's degree from San Jose State University and her undergraduate degree from Tufts University. She has been practicing as an occupational therapist for almost thirty years and has worked with both adults and children with developmental as well as physical disabilities. She has experience providing both in-home as well school services. Ms. Powers is certified in sensory integration and administration of the Sensory Integration and Praxis Tests. Ms. Powers has worked as an adjunct professor at the University of St. Joseph in West Hartford and Briarwood College in Southington.