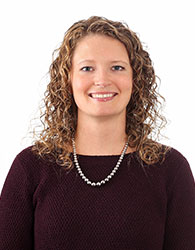 Colleen Suzio, M.S., BCBA
Colleen Suzio is a Program Coordinator at the Center for Children with Special Needs (CCSN). She provides consultative support to educational programs as a member of the consultation division at CCSN.
She received her master's degree in Applied Behavior Analysis and Autism Spectrum Disorders through the University of Saint Joseph, and is a Board Certified Behavior Analyst. Colleen has experience working with school based programs for elementary and middle school students with Autism Spectrum Disorder and other neurodevelopmental disabilities. Previously, Colleen worked as a BCBA for a private school providing services to elementary and secondary level students with complex learning profiles and behavioral needs. Additionally, Colleen has experience providing staff and parent trainings. She has worked as an adjunct professor at the University of Saint Joseph and is a member of the Behavior Analyst Leadership Council (BALC), the Association of Professional Behavior Analysts (APBA), and the Association for Behavior Analysis International (ABAI).