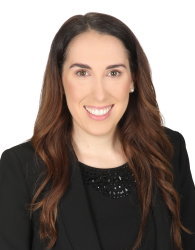 Elizabeth A. Fitter, M.S., M.Ed. , BCBA
Elizabeth holds a M.S. in Behavior Analysis from Simmons College and M.Ed. in Special Education, Moderate Disabilities from Endicott College. She is a Board Certified Behavior Analyst (BCBA) with licensure in Connecticut and Massachusetts. Her experience as a BCBA spans from working with children and adults with autism spectrum disorder, developmental disabilities, and emotional disturbances to the higher education sector. Most recently her work includes guiding individualized instruction based on the principles of behavior analysis for families, students, and staff. In addition, Elizabeth utilizes Precision Teaching in many of her methods and interventions.
As a current doctoral student in Applied Behavior Analysis at The Chicago School of Professional Psychology, Elizabeth's research centers on the application of teaching methodologies, collaboration, and mindfulness. She recently studied abroad in Denmark working with students and families researching the health and well-being of all individuals. She has a passion for working with a wide range of professionals to research and implement evidence-based interventions to promote the success of families in their home and communities.
She is a member of Behavior Analyst Leadership Council (BALC), the Association of Professional Behavior Analysts (APBA), Connecticut Association of Behavior Analysis (CTABA), Massachusetts Association of Behavior Analysis (MassABA), the Standard Celeration Society, and the Association for Behavior Analysis International (ABAI).