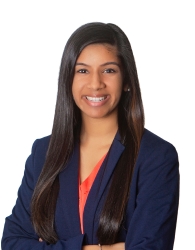 Monica Faldu, B.S., RBT
Monica Faldu is a Behavior Technician working in the CCSN Behavioral Health ABA Clinic. Monica uses principles of applied behavior analysis to implement skill acquisition and behavior support programs with individuals with Autism Spectrum Disorder and related neurodevelopmental disabilities and their families under the supervision of a Board Certified Behavior Analyst.
Monica received a bachelor's degree in Speech, Language and Hearing Sciences from the University of Connecticut. She is a Registered Behavior Technician and is currently pursuing a master's degree in Applied Behavior Analysis at Northeastern University and receiving supervision to become a Board Certified Behavior Analyst. Prior to coming to CCSN, Monica gained extensive experience instructing students with autism and intellectual disabilities in public school settings. Her past work experiences include implementing principles of applied behavior analysis in the classroom to increase academic and life skills through discrete trial instruction and inclusion-focused, natural environment teaching, as well as providing direct speech services to student of varying verbal and functional abilities. Her professional interests include BCBA and SLP collaborations to increase functional communication, early intensive behavioral intervention, and organizational behavior management.