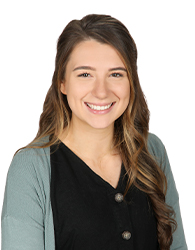 Lauren Lamberg, B.A., Behavior Technician
Lauren Lamberg is a Behavior Technician in the CCSN Behavioral Health ABA Clinic. She has over 3 years of experience working with children and young adults with autism spectrum disorders. Lauren graduated with her bachelor's degree in Psychology at Bay Path University in December 2020.
Lauren has worked with children and young adults ages 3 through 24. She also has experience working in the Public School as a Special Education Paraprofessional with children ages 3 through 7. Lauren has experience utilizing principles of Applied Behavior Analysis to increase students' verbal behavior, functional academics, and life skills through direct instruction and natural environment opportunities.