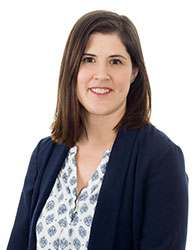 Nichole Collins, M.S., BCBA
Nichole Collins is a Program Coordinator at CCSN, where she provides consultative and program development support to educational programs for students with Autism Spectrum Disorder and developmental disabilities.
Nichole received her master's degree in Applied Behavior Analysis through Northeastern University, and is a Board Certified Behavior Analyst. Nichole has experience working with school programs for lower elementary students through secondary and post-secondary programs. Prior to joining the CCSN team, Nichole worked as the clinical supervisor of an adult services program where she guided the clinical team in the development of a Positive Behavior Support framework and Behavior Analytic practices for the individuals served.   Within that organization, she also worked as a program supervisor in the school consultation program where she organized, planned, implemented, and monitored individualized programming within the district, home, and clinic-based setting. She provided consultation and training to individual team members as well as district-wide groups. As she pursued her master's degree, Nichole also worked as a teacher at the New England Center for Children with adolescent males with developmental disabilities and behavioral needs. Nichole has worked as an adjunct professor at the University of Saint Joseph and is a professional member of Applied Behavior Analysis International (ABAI), the Association of Professional Behavior Analysts (APBA), the Association of Positive Behavior Supports, the Berkshire Association for Behavior Analysis and Therapy (BABAT), the Connecticut chapter of ABAI (CTABA), and the Behavior Analyst Leadership Council (BALC).