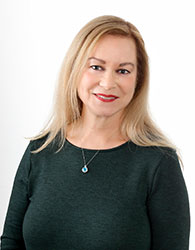 Lisa Nystrom Mule, M.S., CCC, S/LP
Lisa Mulé is a Speech/Language Pathologist with over 20 years of experience, specializing in children presenting autism spectrum disorders and developmental disabilities.
Formerly Supervising Speech Pathologist of the Child Development Center at Connecticut Children's Medical Center, she received her BA at the University of Vermont and her MS at Boston University. She is a licensed Speech Pathologist in the State of Connecticut and earned her Certificate of Clinical Competence from the American Speech-Language-Hearing Association. She has received the Distinguished Service Award from the Connecticut Speech-Hearing Language Association for her work on behalf of children with developmental disabilities. At CCSN, Lisa provides diagnostic evaluations of speech, language and pragmatic communication skills. She also participates in multidisciplinary assessments of the most complex children. She provides ongoing consultative services to a number of school systems in Connecticut. Lisa is a frequent speaker to groups of parents and professionals.