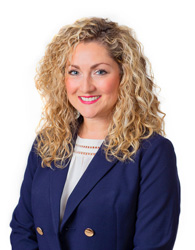 Lauren Staron, M.A., BCBA
Lauren Staron is a Senior Behavior Analyst at the Center for Children with Special Needs (CCSN) where she provides school consultation and clinic-based services. Lauren is a Board Certified Behavior Analyst (BCBA) and Licensed Behavior Analyst in the State of Connecticut. She received her bachelor's degree in psychology from the University of Connecticut and completed her master's degree in Applied Behavior Analysis and Autism Spectrum Disorders at the University of St. Joseph. While completing her master's degree, she was employed by the University of St. Joseph as an intern working with students with autism in a public high school setting.
Prior to joining the team at CCSN, Lauren most recently worked as a BCBA for a Connecticut public school district providing behavioral, academic, and life skills consultation for students from pre-K through the age of 20. Additionally, Lauren has experience providing training to teachers and support staff at elementary through post-secondary levels. Prior to this experience, she provided in-home services to families in Hartford county for an autism-specific birth-to-3 program. Lauren also has experience working with young children and adolescents teaching social, communication, and daily living skills within school districts and community-based settings.