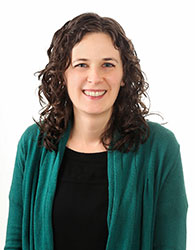 Kimberly Marshall, Ph. D., LBA, BCBA
Kimberly Marshall is a board-certified behavior analyst and a licensed behavior analyst in the state of Connecticut. She is the Senior Program Coordinator at CCSN, where she provides consultative and program development support to educational programs for students with autism spectrum disorders and related disorders. Dr. Marshall has experience working with school programs from preschool through high school. Additionally, she works on internal projects and development at CCSN, focused on providing the staff with diverse experiences and ongoing training. In collaboration with Tina Newman, she provides a range of academic services including an intensive summer reading clinic, academic consultation, and professional development workshops.
Dr. Marshall received her bachelor's degree in education from Bucknell University, her master's degree in autism and intellectual disabilities from Teachers College, Columbia University, her board certification in behavior analysis through The Chicago School of Professional Psychology, and her Ph. D. in Applied Behavior Analysis from Endicott College. Prior to joining the team at CCSN, Dr. Marshall developed an early intervention program at Blythedale Children's Hospital in Valhalla, NY, for children with autism and communication disorders. Currently, Dr. Marshall is an adjunct professor and thesis mentor at Endicott College. Dr. Marshall has presented nationally and internationally on topics including functional analysis and reading comprehension, and is a professional member of various professional local and national behavior analytic organizations.