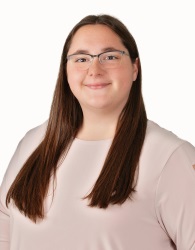 Kathleen Clare, B.A., RBT
Kathleen (Katie) Clare is a Behavior Technician currently working in the ABA Clinic at CCSN Behavioral Health. She assists with the implementation of skills acquisition, behavior reduction programs, and parent training for children with autism spectrum disorders (ASD) under the supervision of a Board-Certified Behavior Analyst?.
Katie graduated from Framingham State University with a Bachelor of Arts in sociology and a minor in diversity studies. She is currently attending Regis College for graduate school, pursuing a Master of Science in Applied Behavioral Analysis (ABA). Katie is a Registered Behavior Technician. She has seven years of experience working with children of all different abilities in all different environments. She has spent many summers working with children in summer and day camp settings, in which she would create and implement games and activities for large groups of children. She also spent over four years in aquatics, teaching water safety to children of all ages and abilities. She hopes to work with children more in clinic and school settings in the future.
Katie enjoys reading and being with friends and family during her downtime. She can also be found at the pool any time she can find to sneak away!