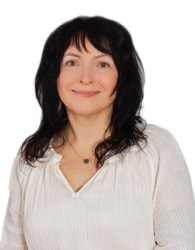 Gosia Bochenska, M.A., LBA, BCBA
Gosia Bochenska is a Licensed Behavior Analyst, Board Certified Behavior Analyst and a Senior Behavior Analyst at CCSN. Gosia received her master's degree in Clinical Psychology from Warsaw School of Social Sciences and Humanities in Poland, with a Major in Abnormal Child and Adolescent Psychology and Minor in System Family Therapy. Gosia worked at the Center for Early Intervention in Warsaw where she conducted testing and wrote academic programs as well as behavior support plans. She was also active in ABA research, behavioral projects (such as Polish ABA vocabulary), cooperation with the May Institute in Randolph, MA, and organization of international conferences. At the Stan Cassidy Center for Rehabilitation in Canada, Gosia worked as part of an interdisciplinary team providing specialized tertiary level services to New Brunswick children and families impacted by autism spectrum disorders.
Gosia is a professional member of Applied Behavior Analysis International (ABAI), The Polish Association for Behavior Analysis (PABA), and Connecticut Association for Behavior Analysis (CTABA).