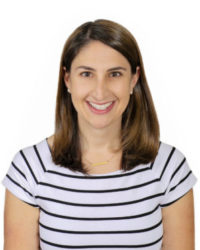 Amanda P. Laprime Ph.D., BCBA-D
Dr. Amanda Laprime is a Program Director at CCSN. Amanda provides leadership to the CCSN Consultation Team and supports program development in educational programs for students with Autism Spectrum Disorder and other developmental disabilities. Amanda has previously served as the coordinator of a project to support integrated evidence-based services for individuals with developmental disabilities into state psychiatric residential treatment facilities.
Amanda received her master's degree in Applied Behavior Analysis through Northeastern University, and her Ph.D. in Applied Behavior Analysis at Simmons College. She is a doctoral level Board Certified Behavior Analyst and Licensed Behavior Analyst in the State of Connecticut. Prior to coming to CCSN, Amanda served as the Clinical Director for an organization overseeing home and school-based programs for children and adolescents with autism spectrum disorders and other developmental disabilities. She also completed an internship at the May Institute during her master's coursework. She has experience working with individuals who present with complex, high-risk behavior, as well as with building capacity within community organizations to service those individuals. Amanda currently serves as a part-time lecturer at Northeastern University and an adjunct professor at the University of Saint Joseph. She is on the board of directors for the Cambridge Center for Behavioral Studies, the Berkshire Association for Behavior Analysis and Therapy (BABAT), and the Verbal Behavior Special Interest Group through ABAI. She is a professional member of the Berkshire Association of Behavior Analysis and Therapy (BABAT), the Association for Behavior Analysis International (ABAI), the Association for Professional Behavior Analysts (APBA), and the Behavior Analyst Leadership Council (BALC).
Amanda has presented nationally on topics related to treating high-risk challenging behavior, verbal behavior, and best practice approaches for individuals with ASD. She has published journal articles in Education and Treatment of Children, the Journal of Developmental and Physical Disabilities, and the Encyclopedia of Autism Spectrum Disorders. She has served as a guest reviewer for The Analysis of Verbal Behavior, the Journal of Applied Behavior Analysis, and Behavior Analysis in Practice.