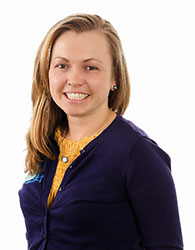 Adrianna Zambrzycka, LCSW, LBA, BCBA
Adrianna Zambrzycka is a Licensed Clinical Social Worker, Licensed Board Certified Behavior Analyst, and a Program Coordinator at CCSN. She provides consultative services to school programs for students with Autism Spectrum and related disorders. Adrianna helped develop and implement a model of Care Coordination as part of a project aimed at bringing integrated evidence-based services for individuals with developmental disabilities into state psychiatric residential treatment facilities (PRTF).
Adrianna received her master's degree in Social Work from the University of Connecticut School of Social Work, and obtained her BCBA through the University of North Texas. She has experience working with a wide range of individuals varying in age and disabilities across home and school settings, including children with emotional and behavioral disorders residing in foster care. Prior to joining CCSN, Adrianna provided school consultative services through the Institute of Professional Practice, Inc. with a focus on early intervention while working with typically developing children in grades K-3 displaying behavioral, emotional and academic concerns. Adrianna has worked as an adjunct professor at the University of Saint Joseph.